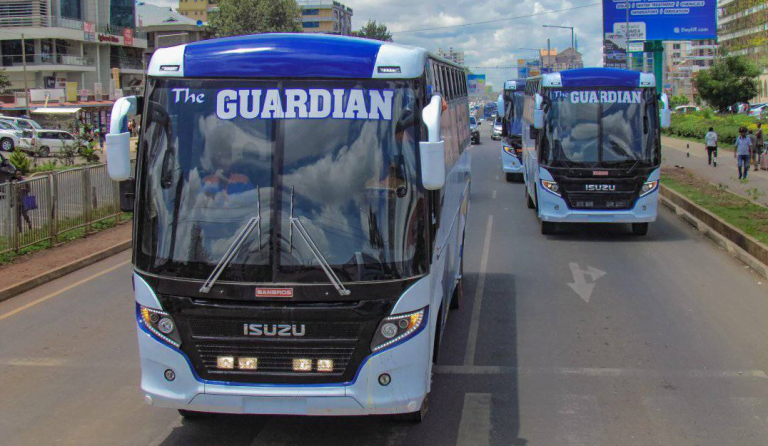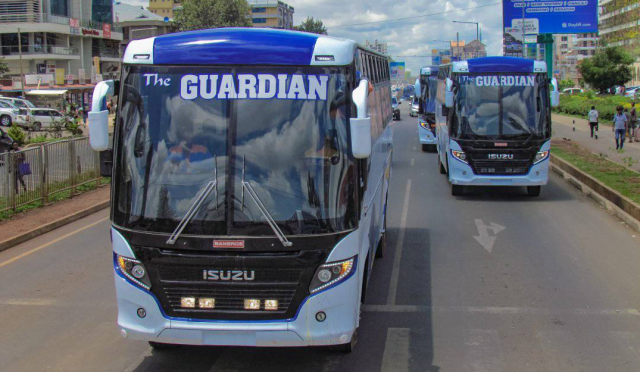 Parts of Kenya, from Nairobi through Nakuru to Kisumu and Kakamega, are among a network of routes served by the Guardian Coach, known for its Guardian Angel buses.
Many of the Guardian Angel routes run all night, delivering an effective and efficient transport service to all those travelers who wish to travel throughout the seasons.
As the country's economy continues to grow with the population, people need transport services to match, and the Guardian Coach is determined to bridge all the gaps in the sector. It says its successes are thanks to "expertise, reliability and professional drivers" aside from the ease of booking the Guardian Angel's buses online, convenient payment methods, and financially sustainable ticket prices.
How to book Guardian Angel bus tickets online and pay with Mpesa
The online booking process of Guardian Angel is easy. It can be done on the Guardian Coach Booking App or its website, whereby you can search bus schedules, compare prices, and get tickets to your destination after paying through Mpesa. Here is how to go about it;
1. Visit theguardian.co.ke
2. On the homepage, navigate to the booking form in the mid-website and fill in your departure and destination in the 'from' and 'to' sections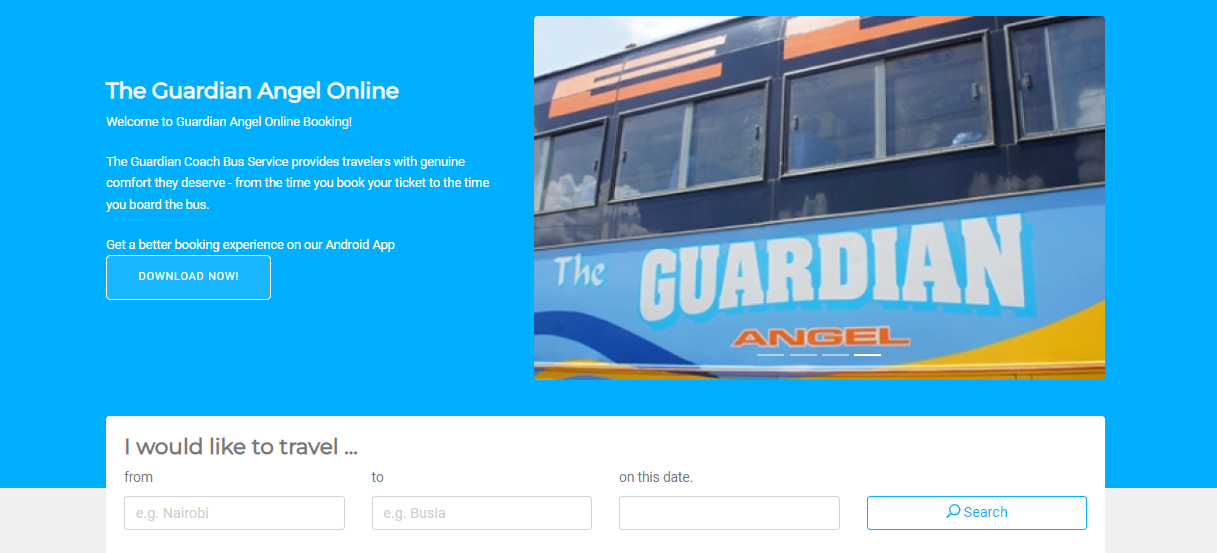 3. Enter your traveling date and hit search to view bus schedules
4. In the Scheduled departure results, select your most suitable Guardian Angel bus and click 'Book Seats'
5. Departure information will open. Check departure time, type of bus and choose your preferred seat
6. In the Passenger Details, enter your name, contact, ID number, and nationality, then click 'Proceed to payment'
How to pay for Guardian Coach tickets with Mpesa
After getting to the sixth step above, do not shut down the browser used to book the bus. This is what you will do to guarantee a successful booking;
7. Temporarily, exit the Guardian Coach booking website by pressing the home button. Now go to the Safaricom SIM toolkit to pay your bus fare using Mpesa
8. Select Lipa na Mpesa, Pay Bill option
9. Guardian Angel buses use Mpesa pay bill number 308900. Key it
10. Enter the Account no. as 'TICKET'
11. Enter the required fare as displayed in the booking portal
12. Enter your Mpesa PIN and wait for the confirmation message
Completing the Guardian Coach online booking process
13. After getting the Mpesa message confirming your payment, copy the Mpesa code, also known as Transaction ID, and return to your browser by single-clicking on its icon on your phone
14. Enter the phone number used to pay for the bus fare in the Cellphone Number category
15. In the MPESA Transaction ID section, copy the Mpesa code and click 'Submit Booking' to get your bus ticket
After a minute or so, you will receive a message from Guardian Coach with your bus ticket number and departure details. It may be followed up by a call from its customer representative using phone number 0722221290.
You can use the e-ticket to catch the Guardian Angel bus on the departure date.
Latest Guardian Angel bus fares
The Guardian Coach of Guardian Angel buses are cost-effective, starting at an average of Ksh1,000, but it depends on the distance of travel. For instance, Nairobi to Kisii costs Ksh1,200, Busia to Nairobi Ksh1,400, the same as Nairobi to Maseno and Kisumu to Kenya's capital.
How much does Guardian Angel bus fare cost in 2023?
| | | |
| --- | --- | --- |
| Traveling from | To | Single ticket cost |
| Busia | Nairobi | Ksh1,400 |
| Nairobi | Kisii | Ksh1,000 |
| Kakamega | Nairobi | Ksh1,400 |
| Eldoret | Nairobi | Ksh1,400 |
| Eldoret | Nakuru | Ksh1,400 |
| Kisumu | Nairobi | Ksh1,400 |
| Nairobi | Kakamega | Ksh1,400 |
| Narok | Nairobi | Ksh1,200 |
| Nairobi | Maseno | Ksh1,400 |
| Nairobi | Matunda | Ksh1,400 |
| Nairobi | Malaba | Ksh1,400 |
| Kitale | Nairobi | Ksh1,400 |
| Nairobi | Homa Bay | Ksh1,200 |
| Nairobi | Moi's Bridge | Ksh1,400 |
| Bungoma | Nairobi | Ksh1,400 |
| Luanda | Nairobi | Ksh1,400 |
| Kapsabet | Nairobi | Ksh1,400 |
| Nakuru | Kisumu | Ksh1,400 |
The table above shows the new bus fares you will pay before traveling with Guardian Angel buses from September 2023. They are single bus ticket costs for one-way journeys.