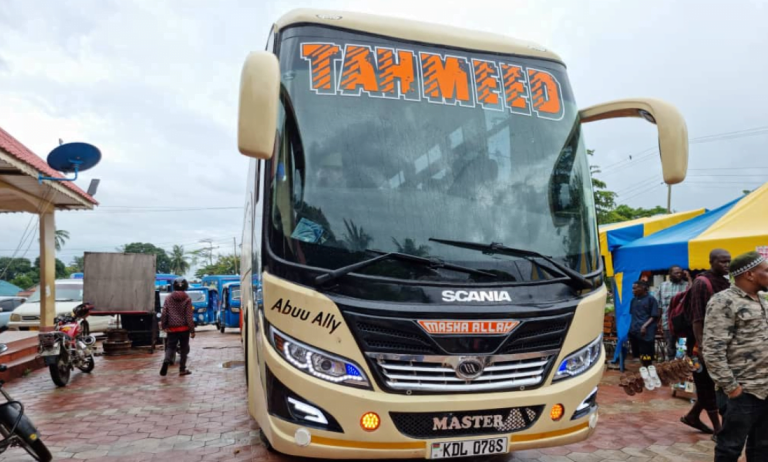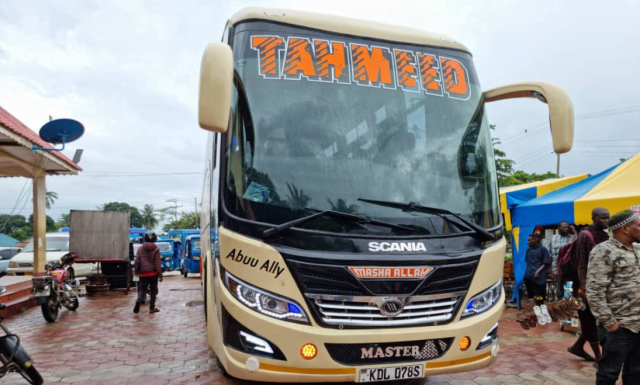 Air conditioners? Check. Free WiFi? Check. Reclining seats? Check. Flat-screen TVs? Check. Phone charging outlets? Check, check, check! Getting around Kenya in a comfortable, safe, reliable and affordable way is possible with Tahmeed buses.
Tahmeed buses provide several city-to-city travel and express routes to get you where you want stress-free, even outside Kenya. Whether you are travelling from Nairobi to Mombasa, Nairobi to Kampala or Dar es Salaam, Eldoret to Nairobi, Nairobi to Kisumu, Kakamega to Nakuru, Mombasa to Kitale, Bungoma to Nairobi and Busia to Nakuru, among other destinations, Tahmeed is ready to serve you.
And to make it easy for you, the finder of a fun bus trip, you do not have to stand in a queue or search for a travel agent to get your Tahmeed bus ticket because they are open for reservation 24/7 online. Learn more about how to book Tahmeed bus online in Kenya;
How to book Tahmeed bus online
Aside from saving you valuable time, booking a Tahmeed bus online gives you the freedom of personalizing your journeys using the special filtering options in the system that ensure you choose your best fit, service, and money-wise.
Here is how you can buy bus tickets online on your phone or tablet from Tahmeed;
1. On your browser, visit the Tahmeed online ticket booking portal at www.tahmeedexpress.com
2. In the upper part of the homepage, you will see an embedded booking form. In the 'From' field, choose your departure point and destination in that of 'To'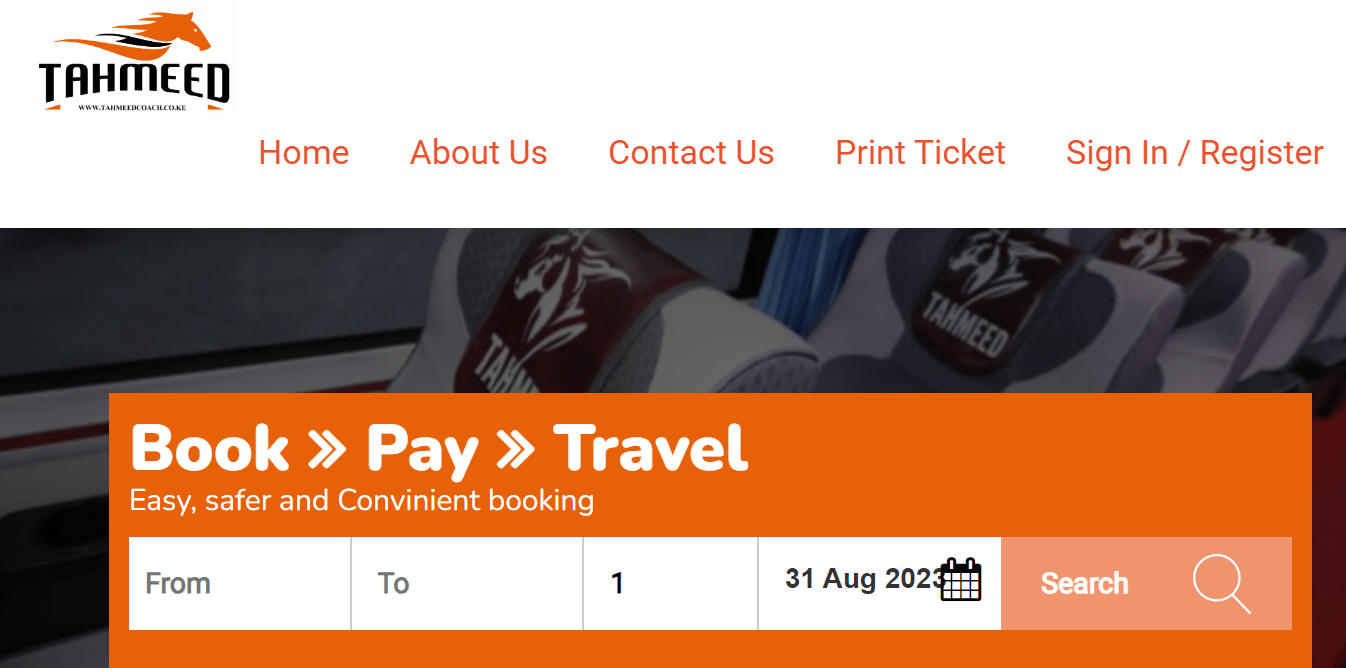 3. Click on the calendar icon to enter your travelling date
4. Hit 'Search' to load available Tahmeed buses. On the next page, you can modify your search by choosing a specific traveling time, type of bus, and its amenities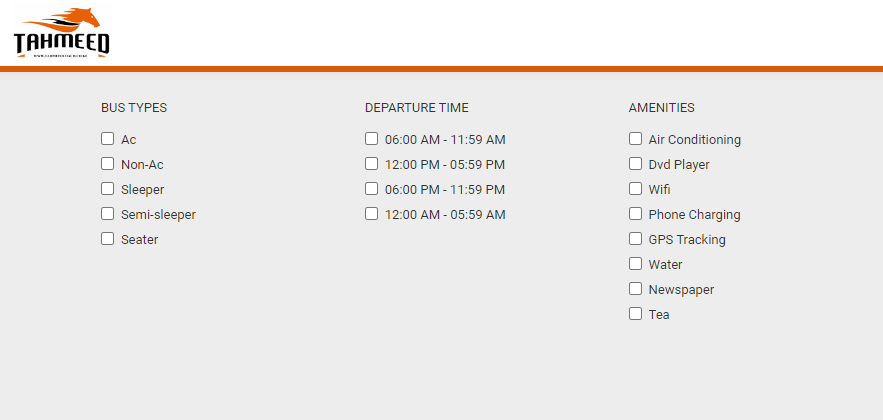 5. In the list of highlighted buses, choose one that suits you in terms of type, pricing, and departure time
6. Click on 'VIEW SEATS' to see unoccupied seats and reserve yours
7. Go to 'Continue' to access Trip Review. Confirm your journey details and move to the next page
8. Sign in to your Tahmeed account or select 'Continue as a Guest' to enter passenger details like name, contacts, nationality, and ID number
9. After filling in the required details, click 'PROCEED TO PAY'
10. Pay Tahmeed bus fare by clicking 'Make Payment' to get a Mpesa prompt on your phone
Alternatively, you can pay Tahmeed via Mpesa by following these steps: Go to Safaricom SIM toolkit > select Mpesa > Lipa na Mpesa, Pay Bill option > enter Tahmeed Mpesa pay bill number 4091239 > in the Account no. section, supply your bus ticket code received via SMS from Tahmeed_EXP > enter payable bus fare and confirm the payment.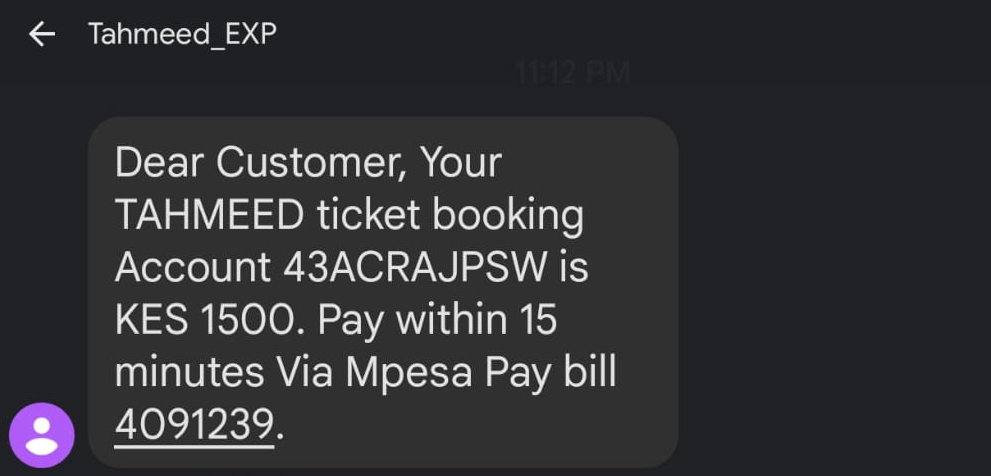 You will receive a message with your ticket number.
How do you print Tahmeed bus tickets online?
Printing Tahmeed bus tickets after booking a bus online is easier than you might think;
1. Visit www.tahmeedexpress.com
2. In the navigational menu on the header, go to 'Print Ticket'
3. Enter your Tahmeed bus ticket number
4. Enter your phone number used to pay for the ticket
5. Load 'Print Ticket'
Within seconds, your bus e-ticket will be printed. Show this ticket to the passenger service agent when catching the booked Tahmeed bus on the departure date. You can only print a confirmed ticket.
Where can I go on a Tahmeed Bus? Places and fares 2023
Tahmeed Buses, owned by businessman Tahmeed Mansur, offers bus tickets to almost all major destinations in Kenya. Check out the cost of traveling in these luxury buses;
| | | |
| --- | --- | --- |
| From | To | Tahmeed bus fare |
| Busia | Nairobi | Ksh2,500 |
| Yala | Nairobi | Ksh2,500 |
| Sabatia  | Nairobi | Ksh2,500 |
| Kehancha | Mombasa | Ksh2,500 |
| Nairobi | Mtwapa | Ksh1,200 |
| Nairobi  | Bamburi | Ksh1,500 |
| Nairobi | Mombasa | Ksh1,500 |
| Nairobi | Voi | Ksh1,200 |
| Nairobi | Malindi | Ksh2,000 |
| Ugunja | Mombasa | Ksh2,500 |
These are the latest fees charged by Tahmeed on popular destinations within Kenya. You can view your payable fares when booking the bus online. For booking-related queries, contact 0729356561 or 0735356561.