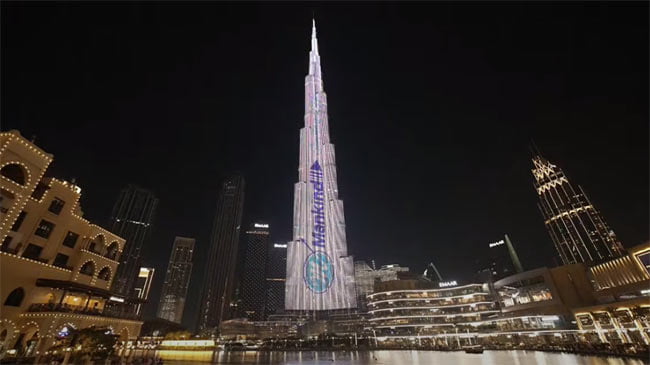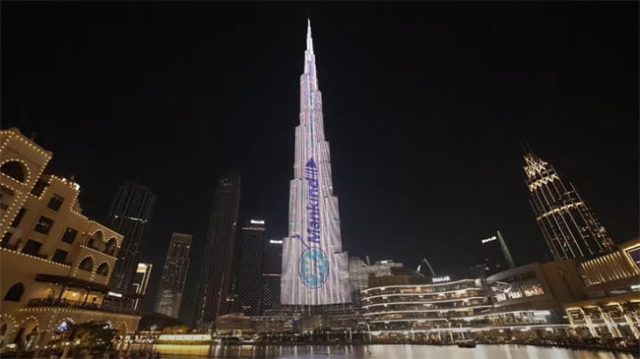 Thursday, July 20, 2023: The Burj Khalifa in Dubai was lit up with Mankind Pharma's showcase video at 8:15 PM (GST) in honor and celebration of 28 years of serving humankind with high-quality but affordable pharmaceutical products to become one of the most revered medicine manufacturers in the world.
In the video that illuminated the façade of the tallest building on earth for three minutes, Mankind Pharma highlighted its commitment to raising healthcare standards by unlocking access to premium-grade drugs, which are the purest, containing the standard active pharmaceutical ingredient (API) as per the Drug Master File in Food and Drug Administration (FDA).
Also in the clip, Mankind, the fourth largest pharmaceutical company in India by domestic sales, spotlit its vision-chasing trek, which traces back to 1991 when it was started by brothers Ramesh Juneja and Rajeev Juneja with an investment capital of merely $60,000 to its listing at the Indian bourse NSE India with a market cap of over $9 billion in 2023.
Speaking after the event, Mr. Ramesh, who is now the Vice Chairman and Managing director of Mankind Pharma, said, "We are immensely proud to have unveiled this mesmerizing video projection on Dubai's iconic Burj Khalifa, symbolizing Mankind Pharma's unwavering commitment to excellence and innovation in the pharmaceutical industry. This monumental achievement showcases our dedication to providing access to affordable and high-quality medicines. We believe that this grand showcase represents not only our brand's remarkable journey but also our mission to positively impact global healthcare. Mankind Pharma will continue to push boundaries, redefine industry standards, and inspire others to join us in transforming lives through our pharmaceutical products."
Mankind Pharma is popular for its Manforce condoms brand, pregnancy testing kit Prega News and Acnestar for pimple treatment and management, among other drugs. It made history as the first biopharma to present a LED show on the iconic skyscraper with 163 floors.
Watch Mankind Pharma video on Burj Khalifa