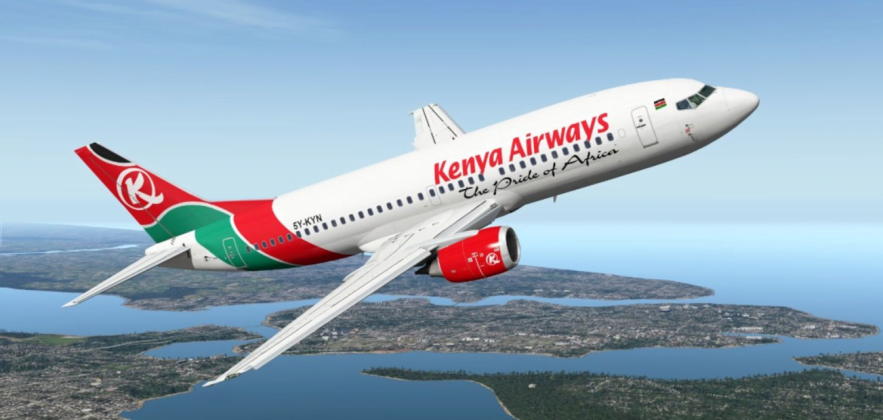 Looking for a good airline to fly to or from the UK? Kenya Airways might be a really promising option, considering its reliability, comfort, passenger safety, and affordability due to its close-to-cheap rates.
Kenya Airways was voted Africa's Leading Airline in 2021 and 2021, two years in a row, after receiving the highest customer satisfaction score due to timeliness, crew professionalism, up-to-speed baggage handling, and ease of booking and boarding flights.
This Kenyan flag carrier has been operational since 1977, and it is connected to over 40 destinations in the world, including London, UK, operating from its hub in Jomo Kenyatta International Airport (JKIA) in Nairobi. It celebrated 45 years in the air in 2022.
Here is what you need to know before booking a Kenya Airways flight ticket to fly to or from the UK:
How to book a Kenya Airways flight ticket to the UK
If you want to fly in or out of the UK with Kenya Airways, it is easy to book your flights online directly with KQ by following these simple steps:
1. Visit www.kenya-airways.com
2. On the homepage, scroll down to the booking widget


3. Choose your preferred flight as either Round Trip, One Way or Multi-City
4. Enter your departure location and destination
5. Select your departure date
6. Enter passenger's cabin info – number of passengers and preferred suites (Economy or Business Class)
7. Enter Promo Code (if you have any). Hit the 'Book Now' button
On the new page, you'll view similar available flights with a choice of editing your details by booking early or late flights that fly to your desired destination on different dates with their indicative prices. If you want to proceed with your initial booking, scroll down and confirm your flight booking time, and press 'Continue,'
8. On the new page, enter your personal information like name, flyer number, and number of items of baggage to be checked
9. Key in your contact information – emails, personal and emergency phone numbers
10. Press 'Continue'
You'll open the Services page; select the type of services you may need before and during the flight. Here, you can book your seat number, meals, and other airport services. To finalize booking your flight ticket to or from the UK, select 'Continue' on the right side of the page to complete your payment.
Kenya Airways allows payment of flight tickets using Visa credit or debit cards, PayPal, bank transfer, WeChat Pay, SOFORT, UnionPay, Ali Pay, iDeal and Giro Pay.
Kenya Airways' baggage policy
When traveling with Kenya Airways Economy Class, you can carry one bag of L55xW25xH35cm weighing a maximum of 12kg plus an accessory like a laptop or a purse for free. On the other hand, Business Class occupants can board the plane with two similar bags of not more than 18kg, alongside other small-sized personal accessories.
On flights routed to the UK, passengers can carry two checked bags of 23Kgs each for Economy Class occupants and two bags weighing 32 kg maximum each for those who booked Business Class.
How much does Kenya Airways charge to screen bags? To check the first two bags on KQ's free checked baggage allowance, irrespective of the booked suites, customers pay a $200 flat fee and an extra $200 for each additional baggage.
Can you travel with pets on Kenya Airways?
Kenya Airways accepts travel with domesticated pets like cats and dogs but not on the cabin with other passengers or the owner but in climate-controlled baggage compartments inside a pet crate. This area is heated and ventilated for the pets to travel in comfort.
Only service dogs aiding disabled persons are allowed on Kenya Airways cabins upon written recommendation from a professional medical doctor to KQ. These dogs will travel free of charge without a cage or a crate in the passenger compartment.
Kenya Airways destinations in the United Kingdom (UK)
Here is where Kenya Airways fly to and from in the UK;
* Aberdeen, Scotland – Aberdeen International Airport (ABZ)
* County Antrim, Northern Ireland – Belfast City Airport (BHD)
* City of Birmingham – Birmingham Airport (BHX)
* Bath County – Bath Airport
* Somerset – Bristol Airport (BRS)
* Cambridgeshire – Cambridge City Airport (CBG)
* Rhoose, Wales – Cardiff Airport (CWL)
* Edinburgh, Scotland – Edinburgh Airport (EDI)
* Glasgow – Glasgow Airport (GLA)
* Kirmington – Humberside Airport (HUY)
* West Yorkshire – Leeds Bradford Airport (LBA)
* London – London City Airport (LCY)
* West Sussex – London Gatwick Airport (LGW)
* London Borough of Hillingdon – Heathrow Airport (LHR)
* Oxfordshire – Oxford Airport (OXF)
* County of Essex – London Stansted Airport (STN)
* Bedfordshire – London Luton Airport (LTN)
* Greater Manchester – Manchester Airport (MAN)
* Woolsington – Newcastle International Airport (NCL)
* Norfolk County – Norwich Airport (NWI)
* Darlington County – (MME)
Which airplanes does Kenya Airways operate?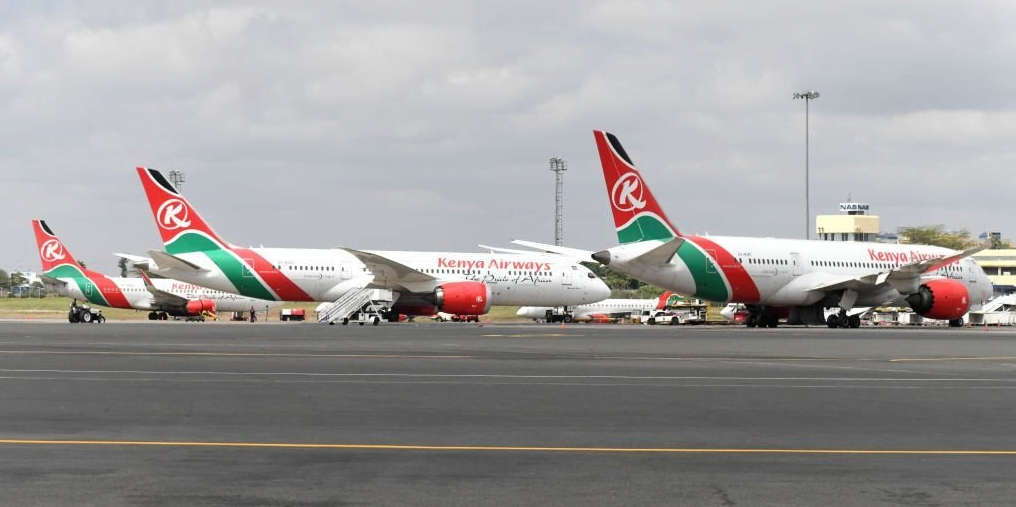 At the time of publication, Kenya Airways has 34 aircraft in its fleet;
| | | |
| --- | --- | --- |
| KQ plane | Number of aircraft | Passengers |
| Boeing 787-8 – Dreamliner | 9 | 234 – 30 (Premier World) and 204 (Economy) |
| Boeing 737-800 | 8 | 145 – 16 (Premier World) and 129 (Economy Class) |
| Boeing 737-300F | 2 | N/A (cargo plane) |
| Embraer E190 | 15 | 96 – 12 (Premier World) and 84 (Economy) |
READ: Nairobi Pay: The Easiest Way of Paying Parking Fees Online