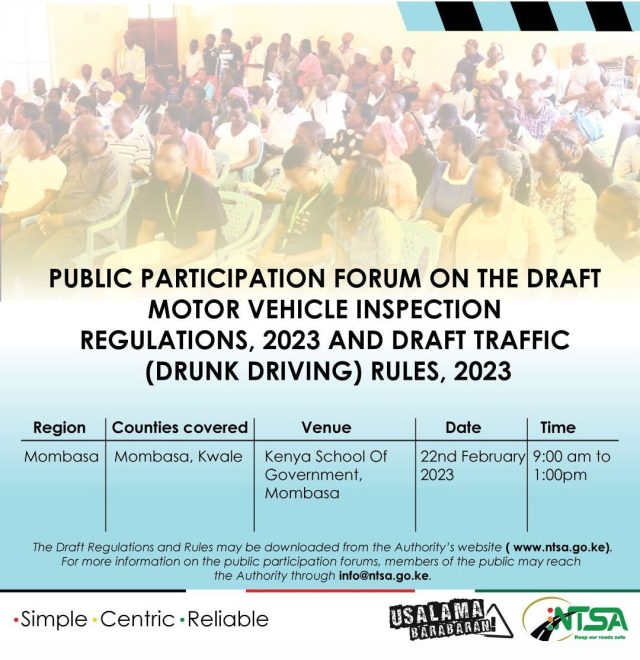 NTSA Mandatory inspections for Vehicles above four years in Kenya.
NTSA (The National Transport and Safety Authority ) is a government agency in Kenya responsible for regulating and overseeing the transport sector. One of the services the NTSA provides is vehicle inspection, a mandatory requirement for all vehicles in Kenya.
Vehicle inspection is carried out to ensure that vehicles are roadworthy and meet the safety standards set by the government. The inspection covers various aspects of the vehicle, including the brakes, suspension, steering, lighting, and tires.
To book a vehicle inspection, vehicle owners can visit any NTSA inspection centre nationwide. The inspection fee varies depending on the type of vehicle and the inspection category.
There are three categories of vehicle inspection:
New Vehicle Inspection – This category is for brand-new vehicles that have yet to be registered.

Annual Vehicle Inspection – This category is for vehicles over four years old and requiring annual inspection to renew their roadworthiness certificate.

The inspection fees charged by the NTSA vary depending on the type of vehicle. For motorcycles, the fee is Sh1,300, while three-wheelers and vehicles with engine capacity up to 3,000cc are charged Sh2,600. However, for vehicles with engine capacity exceeding 3,000cc, the fee is Sh3,900.

As for trucks, those weighing up to five tonnes incur an inspection fee of Sh2,000. On the other hand, trucks weighing more than five tonnes and heavy commercial vehicles are charged a higher fee of Sh4,600 for inspections.

 

Change of Particulars Inspection – This category is for vehicles that have undergone any changes to their particulars, such as a change in engine number, chassis number, or colour.
The vehicle is examined thoroughly during the inspection, and any faults or defects are identified and recorded. If the vehicle fails the inspection, the owner is given a list of the defects that need to be fixed before the vehicle can be re-inspected.
Once the inspection is complete, the owner is issued a Roadworthiness Inspection Certificate, valid for one year for annual inspections and six months for a change of particulars inspections. The certificate is an important document required for renewing a vehicle's license and insurance.
In addition to physical inspections, the NTSA has also introduced an electronic inspection system called TIMS (Transport Integrated Management System). This system enables vehicle owners to book inspections online and track the progress of their inspections.
In conclusion, a vehicle inspection is a crucial process ensuring that Kenyan roads' vehicles are safe and roadworthy. Vehicle owners are encouraged to ensure that their vehicles are inspected regularly and to fix any defects identified during the inspection. By doing so, they can help to promote road safety and reduce the number of accidents on Kenyan roads.