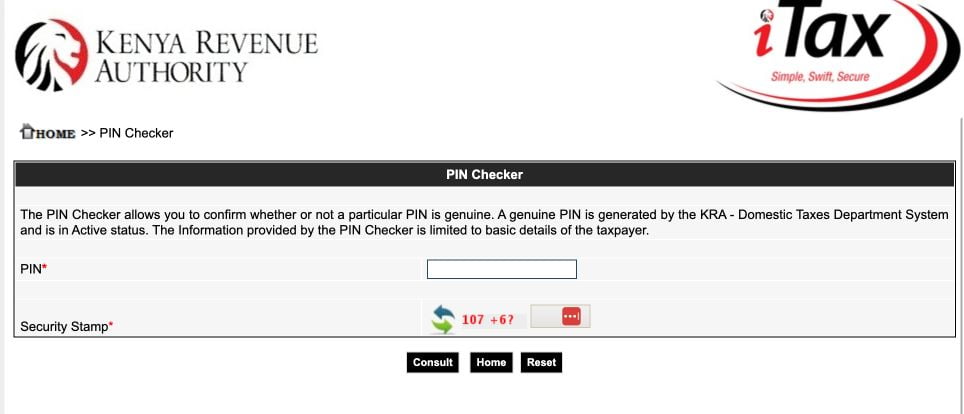 How do I check my KRA PIN number?
When it comes to ensuring your financial transactions are legitimate in Kenya, verifying your Kenya Revenue Authority (KRA) Personal Identification Number (PIN) is crucial. This unique identifier is required for tax-related activities, such as filing returns or paying taxes. In this guide, we'll provide step-by-step instructions on how to confirm your KRA PIN using the iTax PIN Checker.
Visit the KRA iTax Portal
Start by accessing the KRA iTax Portal at https://itax.kra.go.ke/. This is the official website for all KRA-related services, including the iTax PIN Checker.
Navigate to the iTax PIN Checker
On the KRA iTax Portal homepage, locate the "iTax Online Services" section. Within this section, click on the "iTax PIN Checker" option. This will redirect you to the KRA PIN Checker page.
Provide the Necessary Details
The iTax PIN Checker page requires specific information to verify your KRA PIN. You'll need to enter your PIN and the arithmetic result of a simple math question provided for security purposes. After entering these details, click the "Submit" button to proceed.
Review the PIN Verification Results
Upon submitting the required information, the iTax PIN Checker will process your request and display the verification results. If your KRA PIN is valid, you will see details such as your name, tax obligation, and registration date. Should your KRA PIN be invalid or unregistered, you will receive a notification indicating the issue.
Address any Issues with Your KRA PIN
If you encounter problems with your KRA PIN during the verification process, it's essential to address them immediately. Visit your nearest KRA office or contact the KRA customer support team for assistance. Ensure you have the necessary documentation to support your claims.
How can I recover my KRA PIN password without email?
Should you forget your email address or need to update it, simply follow these steps: first, create a color scan of your identification document and send it to callcentre@kra.go.ke. Alternatively, you can seek help by visiting the nearest KRA Office or Huduma Centre.