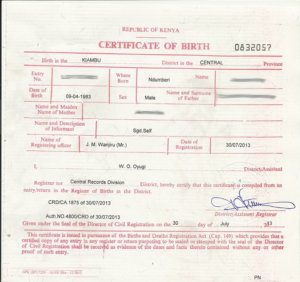 How to replace a lost birth certificate in Kenya?
Without a birth certificate, you cannot prove you are a Kenyan citizen. As such, you would not be eligible for legal rights or services such as VISA, passport, or KCPE and KCSE applications. Therefore, Kenyans who have lost their birth certificates should apply for a replacement online, at Huduma Centre or any Civil Registration office. Read on to find out how you go about the application processes.
Replace a lost birth certificate in Kenya via Huduma Centre
Visit Huduma Centre and bring a copy of the birth notification.
Fill in the application form (form B1) and submit it together with the original birth notification, original IDs, and passports of both parents and their copies. It would help if you also had the birth certificates of both parents. If one or both parents are deceased, please carry the death certificate(s) with you.
Pay the required fee, which ranges between Kshs 50-180.
Wait for a notification from the civil registry.
Replace a lost birth certificate in Kenya Via Online Application Process
Create an E-citizen account if you do not have one yet and log in.
Head on to the civil registration department and click on get service.
Click on make application choose birth certificate, then follow the prompts.
Pay Kshs. 180 via Mpesa using the pay bill and account given.
Once the payment is processed, submit the application and download the invoice generated.
Submit the invoice at the Civil Registration offices and wait for the notification.
If you are applying through the Civil Registration Offices, go to Bishop's Plaza opposite Milimani Court in Nairobi and Hass Plaza, 4th floor, if you are outside Nairobi.