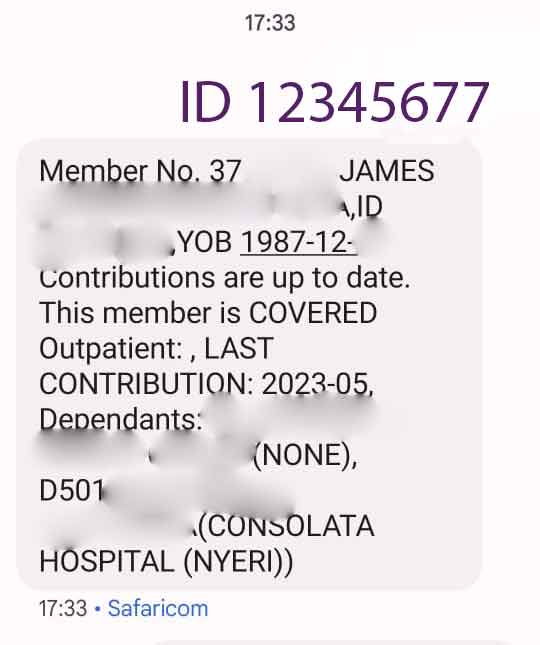 how to check Nhif number via Sms ?
If you need to retrieve your NHIF card number, there are two ways to obtain it:
Check Nhif number Via SMS: Send an SMS with your ID number to 21101 in the following format: "ID*your ID number" (e.g., ID 12345678). By typing the word "ID" followed by your ID number and sending it to the shortcode 21101, you will receive a reply containing your NHIF membership number, the last month you made a payment, and the name of your employer (if applicable).
Call NHIF: Dial the NHIF Toll-Free Line at 0800 720 601. Speak with a representative and request your NHIF membership number. They will be happy to assist you. Additionally, you can inquire about the nearest location to get a replacement NHIF card if you have misplaced it.
For further assistance, you can also reach out to NHIF via their Twitter handle, @nhifkenya, or contact them through email at customercare@nhif.or.ke.
About Nhif Kenya
The National Hospital Insurance Fund (NHIF) in Kenya is a government-run social health insurance scheme. Established in 1966, NHIF aims to provide accessible and affordable healthcare services to all Kenyan citizens. It operates on a contributory basis, where members make regular payments to access comprehensive medical coverage.
NHIF offers a wide range of benefits, including inpatient and outpatient services, maternity care, surgical procedures, and specialized treatments. Members can seek medical care at accredited healthcare facilities across the country, including public and private hospitals.
Membership to NHIF is mandatory for all formal sector employees and voluntary for self-employed individuals and informal sector workers. The fund also provides coverage for dependents, including spouses and children.
NHIF Self-Care Portal: Access and Manage Your Nhif Account Online