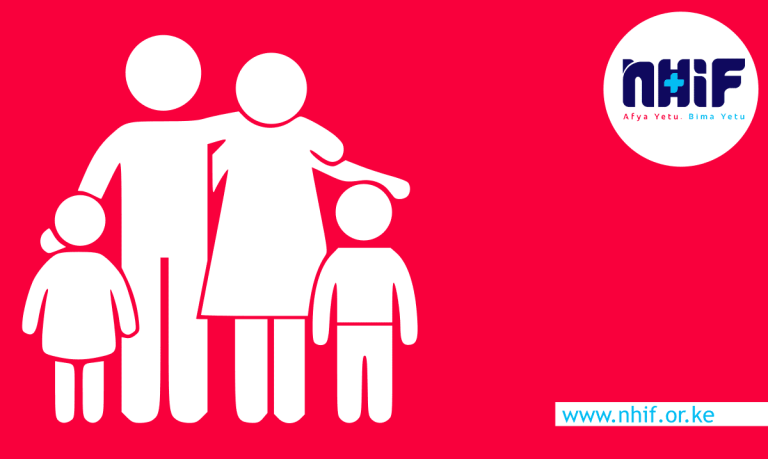 NHIF – Frequently Asked Questions
Below are some frequently asked questions (FAQs) that can assist you in comprehending NHIF services, the financial obligations required, and the procedures to guarantee that your family is adequately insured.
How to add your child or children to your NHIF account?
please visit a nearby NHIF office or Huduma center with a copy of your ID, the child's birth notification (if the child is between 0-6 months old), or a copy of their birth certificate (if the child is 6 months or older), and a passport-sized photo.
If my daughter left her child with me, can I utilize my grandson's birth certificate to add her to my NHIF card?
Please keep in mind that you will need to provide legal documentation to demonstrate that you are the lawful guardian.
I have been making NHIF payments that include coverage for my children. However, my daughter has recently acquired an ID and is enrolling in college. Does her coverage still apply?
Please be advised that children who are still attending school will be covered up to the age of 24 years.
I would like to include my spouse and child on my NHIF card. Could you please guide me on how to do it online?
To add your spouse and child to your NHIF card, please visit the nearest NHIF office or Huduma Center with the following documents: your ID copy, your spouse's ID copy, a copy of your marriage certificate, or a sworn affidavit if you don't have one. Additionally, provide a copy of your children's birth certificates or birth notification if they are between 0-6 months old, along with passport-sized photos for all dependents.
Could you please provide me with the procedure for adding my wife to my NHIF card?
To add your wife to your NHIF card, visit the nearest NHIF office with either a copy of your marriage certificate or a sworn affidavit for the amendment to be processed.
What are the late payment penalties for NHIF?
The penalty for late payment of NHIF contributions is 50% of the outstanding amount. This means that if you fail to pay your monthly contributions of Ksh 500 on time, you will be required to pay Ksh 750, which includes the outstanding amount and a penalty fee of Ksh 250.
It is crucial to note that failure to pay the monthly contributions within six months will result in the de-registration of the member. This means that the member will have to re-apply for membership, and all the waiting periods will apply again.
To avoid late payment penalties and de-registration, members are encouraged to make timely payments of their NHIF contributions. Additionally, NHIF has provided various payment channels, including M-PESA, bank deposits, and bank transfers, to make it easier for members to pay their contributions on time.
How to make NHIF Payments Via Mpesa?
There are two options for paying your monthly NHIF subscriptions: via MPESA or through a bank. If you are self-employed, you can pay using the NHIF MPESA paybill number 200222, following these steps:
Access your MPESA menu and select Lipa na M-PESA.
Choose Pay Bill and input Business no (200222).
Select Account no and input the contributor's National ID Number.
Input the amount (KES 500.00 per month).
Enter your MPESA Pin.
Verify that all the details are correct, and then press OK.
You will receive an immediate confirmation SMS from MPESA, although it may take 2 to 3 days for the payment to reflect.
Alternatively, you can pay through any of NHIF's four bank accounts at National Bank, Co-operative Bank, KCB Bank, and Equity Bank. Use your MEMBERSHIP NUMBER when making the payment, and it will reflect immediately in NHIF's system.