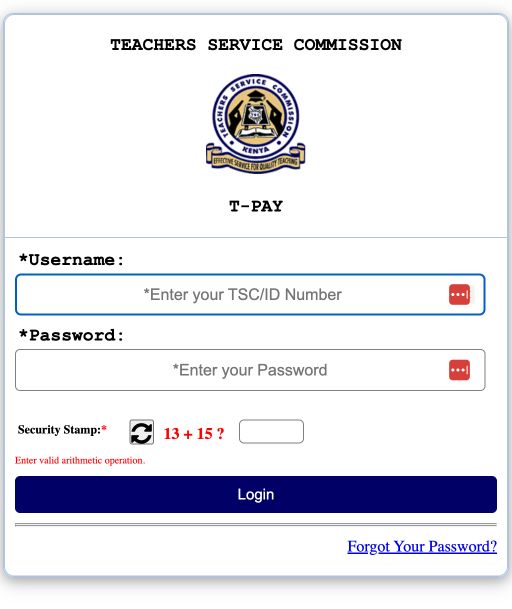 How to Access Your TSC Payslip Online T-PAY
The Teachers Service Commission (TSC) in Kenya offers an online platform where registered teachers can access, view, and download their payslips with ease. This service has been designed to enhance convenience and efficiency for all TSC employees. This article will provide you with a step-by-step guide on how to access and manage your TSC online payslip account.
Step 1: Register for the TSC Online Payslip Portal TSC T-PAY  To begin, you will need to register on the TSC Online Payslip portal T-Pay. Visit the TSC website (https://www.tsc.go.ke/) and click on the "Online Payslips" link. This will direct you to the registration page where you will be required to enter your TSC number, ID number, phone number, and email address. Once you've submitted the necessary details, you will receive an activation code via email.
Step 2: Activate Your Account Access the email containing the activation code and click on the link provided to activate your account. You will then be redirected to the TSC Online Payslip portal where you will need to create a password for your account. Ensure that you create a strong password, containing a mix of uppercase letters, lowercase letters, numbers, and special characters.
Step 3: Log in to Your Account After creating your password, return to the TSC T-PAY Payslip portal homepage and enter your TSC number and password to log in. In case you forget your password, click on the "Forgot Password" link and follow the prompts to reset it.
Step 4: Access Your Payslip Upon logging in, you will be taken to your account dashboard where you can view your personal details, employment information, and other relevant data. To access your payslip, click on the "Payslips" tab and select the desired month and year. Your payslip will be displayed on the screen, providing a detailed breakdown of your earnings, deductions, and other pay-related information.
Upon successful login to your account, review the options listed on the left side of your screen for quick access to the following features:
Menu
Most Recent Payslip
Latest P9
My Transactions
To see your current month's payslip, click on "Most Recent Payslip," and your latest payslip will appear on the screen. You can capture a screenshot or simply press the "print" button to obtain a physical copy of your payslip.
To view payslips from other months, click on the respective month tabs located at the top of the page.
Step 5: Download and Print Your Payslip If you wish to download or print your payslip, simply click on the "Download" or "Print" buttons available on the payslip page. Your payslip will be downloaded in PDF format, which can be easily printed or saved on your device for future reference.
How to Access Your TSC Payslip Online T-PAY