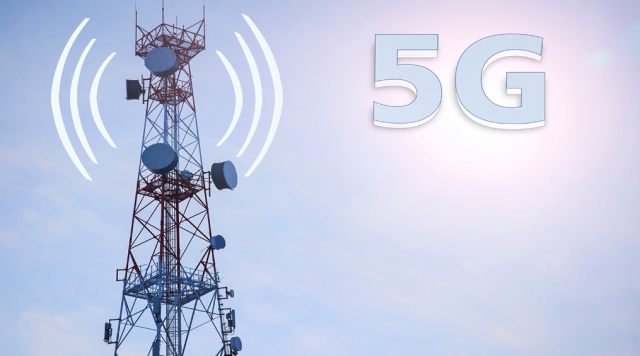 "As a digital lifestyle enabler, we are excited about a 5G future, which makes it possible to close the digital divide in underserved communities, provide access to critical services such as healthcare, or spur economic growth by connecting small businesses to new opportunities. By increasing 5G coverage, we are enhancing Kenya's best internet network and empowering our customers to start exploring the possibilities of 5G," Safaricom PLC CEO Peter Ndegwa said when the leading telecommunication company was expanding the mobile coverage of the most advanced network available in the country today.
Safaricom began 5G infrastructure demonstration and testing in March 2021 amongst select businesses and individual consumers in counties Nairobi, Kisumu, Kisii, and Kakamega before full commercial launch on October 27, 2022. At that time, this service provider had built 35 active 5G sites, and the availability of the next generation of wireless technology was increased to five counties as Mombasa joined in.
And, in April 2023, after constantly focusing on growing its 5G network in a close partnership with Nokia and Huawei, Safaricom increased its availability to 21 counties, then to 23 counties in May, and it aims to enhance its coverage further into more towns and cities to enable more people to step into the future. Where is 5G available in Kenya?
Counties with Safaricom 5G
Safaricom was the first in Kenya to showcase 5G technology, and it also dwarfs the competition with the largest countrywide 5G network coverage in these 23 counties;
| | | |
| --- | --- | --- |
| No. | County | Specific Safaricom 5G available areas |
| 1 | Garissa | Garissa CBD, Daadab, and Jarajila |
| 2 | Kajiado | Lower Oloitoktok, Upper Ngong, Lower Kitengela, Ngong Town, Kitengela and Rongai Town |
| 3 | Kakamega | Kakamega CBD and Sichirai |
| 4 | Kericho | Ainamoi |
| 5 | Kisii | Kisii Town, Kisii Bus terminus, Kisii Teaching and Referral Hospital, Kisii University, and Nyachae Flats |
| 6 | Kisumu | Kiboswa, Lower Riat Estate, Kisumu Airport, Mamboleo, Kisumu CBD, Kisumu Bus Station, Kisumu Old Town, Maseno University, Busia Road, CDC Kisumu, St Aloys Ojola, and Ayoti Distributors |
| 7 | Kiambu | Muthaiga, Runda, Runda Evergreen, Kiambu Town, Thindigwa, Barua Estate, Kirigiti, Ruaka, Kahawa Wendani, Wangige, Ndenderu, Two Rivers Mall, Juja Town, Kenyatta Road, Juja Farm, Gatundu, Juja South, Lower Kabete, Kidfarmaco, Kinoo, Thika Municipality, Ruiru Town, Tatu Industrial Park, Kimbo, Murera, Kahawa Sukari, and Muigai Inn |
| 8 | Kilifi | Watamu, Kikambala, Malindi, and Bambini |
| 9 | Kwale | Ukunda, Diani, Leisure Lodge, Galu, and Nomad |
| 10 | Laikipia | Nanyuki CBD |
| 11 | Machakos | Athi River, Transview, Mountain View, Greatwall, Syokimau Katani Road, Mlolongo, and Kiungani |
| 12 | Marsabit | Moyale Town |
| 13 | Meru | Kiirua |
| 14 | Mombasa | Mtwapa, Mariakani, Bombolulu, Kongowea, Old Town, Nyali, Mwembe Tayari, Tononoka, Mombasa CBD, Mtopanga, Shanzu, and Mombasa Hospital |
| 15 | Nairobi | Kilimani, Westlands, Nairobi West, Langata, South C, Ngong Road, Eastleigh, Pangani, Embakasi, Nairobi CBD, Kasarani, and Makadara |
| 16 | Nakuru | Nakuru CBD Kenyatta Avenue, Kabarak University, Pipeline Barnabas, Section 58, Greensteds, Masai Avenue, Council Estate, Naivasha CBD, and Naivasha Lakeview |
| 17 | Narok | Narok CBD |
| 18 | Nyeri | Nyeri Town |
| 19 | Siaya | Siaya and Maranda |
| 20 | Trans Nzoia | Kitale |
| 21 | Turkana | Lodwar |
| 22 | Uasin Gishu | Kaspoya, Elgon, Kago Street, Racecourse, and Nandi Road |
| 23 | Vihiga | Luanda |
Which county has the most 5G coverage in Kenya?
Nairobi County comes out on top as the best city with the best Safaricom 5G coverage overall. It also has strong Airtel 5G, deployed on July 2023, with widespread 5G infrastructure rollouts ongoing.
In second and third place comes Kiambu and Mombasa counties as the mobile operators seek to deploy more coverage to areas for more consumers to access faster network speeds of up to 700 Megabits per second (Mbps), low latency, and greater capacity, opening the door to new opportunities in the world of cloud gaming and virtual reality.
Where is Safaricom 5G Available in Nairobi?
* Kilimani: Kilimani, Kasuku Road, Yaya Centre, Nyando Road, Kaputei Road, Marcus Garvey, Siaya Road, Caltex Plaza, Mandera Road, Denis Pritt, Lavington, Sunning hills, Rose Avenue, Daphton Court, St Austin Church, James Gichuru, Laikipia Road, Githunguri Road, Amboseli Road, Menelik Hospital, Crystal Springs, Amboseli Lane, Riverside Lane, Woodlands road, Kenya High School, Gichugu Road, and Ralph Bunche Road
* Westlands: General Mathenge, Rhapta Road, Wambugu Road, New Rehema House, UNEP, Westgate, Spring valley, Kyuna, Village market, Highridge, Parklands 1st Avenue, Nyari, Muthangari, Kangemi, Lower Kabete, Church Road, Kitisuru, ISK, Safaricom House, Mountain View, Mpaka Road, and Limuru Road
* Nairobi West/South C: Ranger's court, Solendo Estate, St Catherine Church, South C, Kirdi, KPA South C, Nakumatt Mega, Amana court, Uwity Court, Banda, Geomaps Centre, Nairobi Dam, Mai Mahiu Road, Moi Education, Woodley, Southlands, Muimara, Karen Bogani, NHC Madaraka, Mwitu, Karen Light Academy, Parkview, Hardy, Bomas, Family Health Plaza, Onyonka, Madaraka Estate, Bellevue, Langata, Nyayo Highrise, Farah Road, High View Estate, Multi Media University, Karen Hub, and Uhuru Gardens
* Ngong Road: Riara, Junction, Paresia Centre, Dagoretti Corner, Wanyee Road, Jamhuri Estate, and Public Service Club
* Eastleigh/Pangani: Eastleigh First Avenue, Six Street, Tenth Street, Sun City, Gold City Palace, Ushirika, Kipande, Athumani, Sgt Kahande St, Kirongothi St, California, Mweni Road, Pangani, Juja Road, Racecourse, Kariokor, Bujumbura Road, and Mtarakwa
* Embakasi: JKIA, South B, Komarock, Donholm, Jacaranda Estate, Nasra Garden Estate, Tassia, Aviation School, Imara Daima, Balozi, Fedha, Jacaranda, Umoja, Utawala, Kamulu, and Ruai
* Nairobi CBD: Intercontinental Hotel, University of Nairobi, Luthuli Avenue, and Laxcon House
* Kasarani: Thome, Ridgeways, Roysambu, Windsor, Jacaranda Estate, Marurui, Safari Park, Roysambu, Amani Road, Kasarani, Ngumba Estate, Braeburn Garden, and Queen of Apostles
* Makadara: Kenya Polytechnic, Kapiti Crescent, Elmond Court, Golden Gate, Zanzibar Road, Katulo Road, and BuruBuru
Which type is Safaricom 5G?
Safaricom 5G has a whole new level of performance with faster data speeds and reliable connectivity when streaming in 4K, Making smooth HD video calls and gaming since it is superior to other network types, 1G, 2G, 3G, and 4G.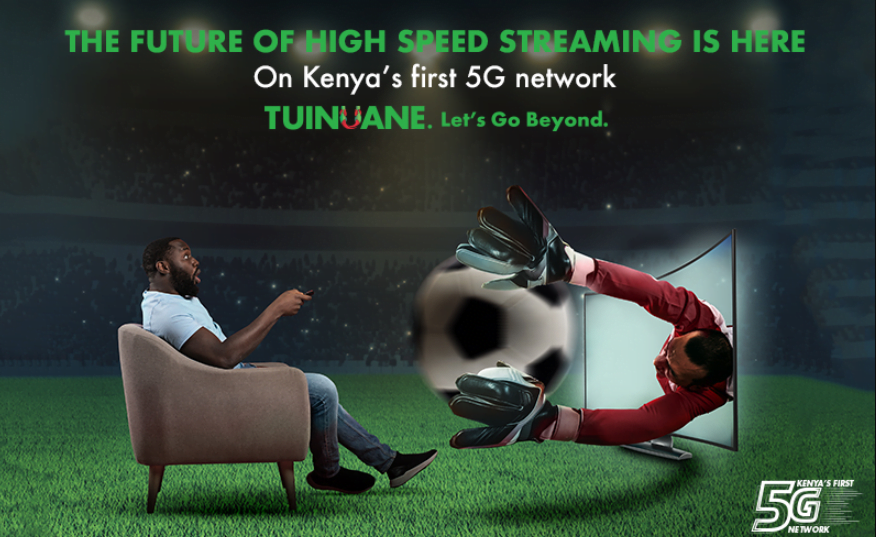 Safaricom offers a high-capacity 5G service from the allocated 60MHz bandwidth of the 2.6GHz spectrum band by the Communications Authority of Kenya (CA). It also utilizes the 3.5GHz 5G spectrum band, which was used during the pilot face, meaning that the 5G network for Safaricom is more reliable and responsive than 4G.
To start using Safaricom 5G, you need a 5G-enabled handset like Huawei Mate 30 Pro, Huawei P40, Nokia 8.3, Samsung Galaxy S21 series, and Samsung Galaxy S20 Ultra 5G, which are compatible with the latest network or buy the Safaricom 5G Wi-Fi router which costs Ksh9,999 with Safaricom 5G Plans that start from Ksh 3,499/mo for 10MBps internet speed to Ksh14,999/mo for 100MBps uplink. You must be in an area served by 5G.