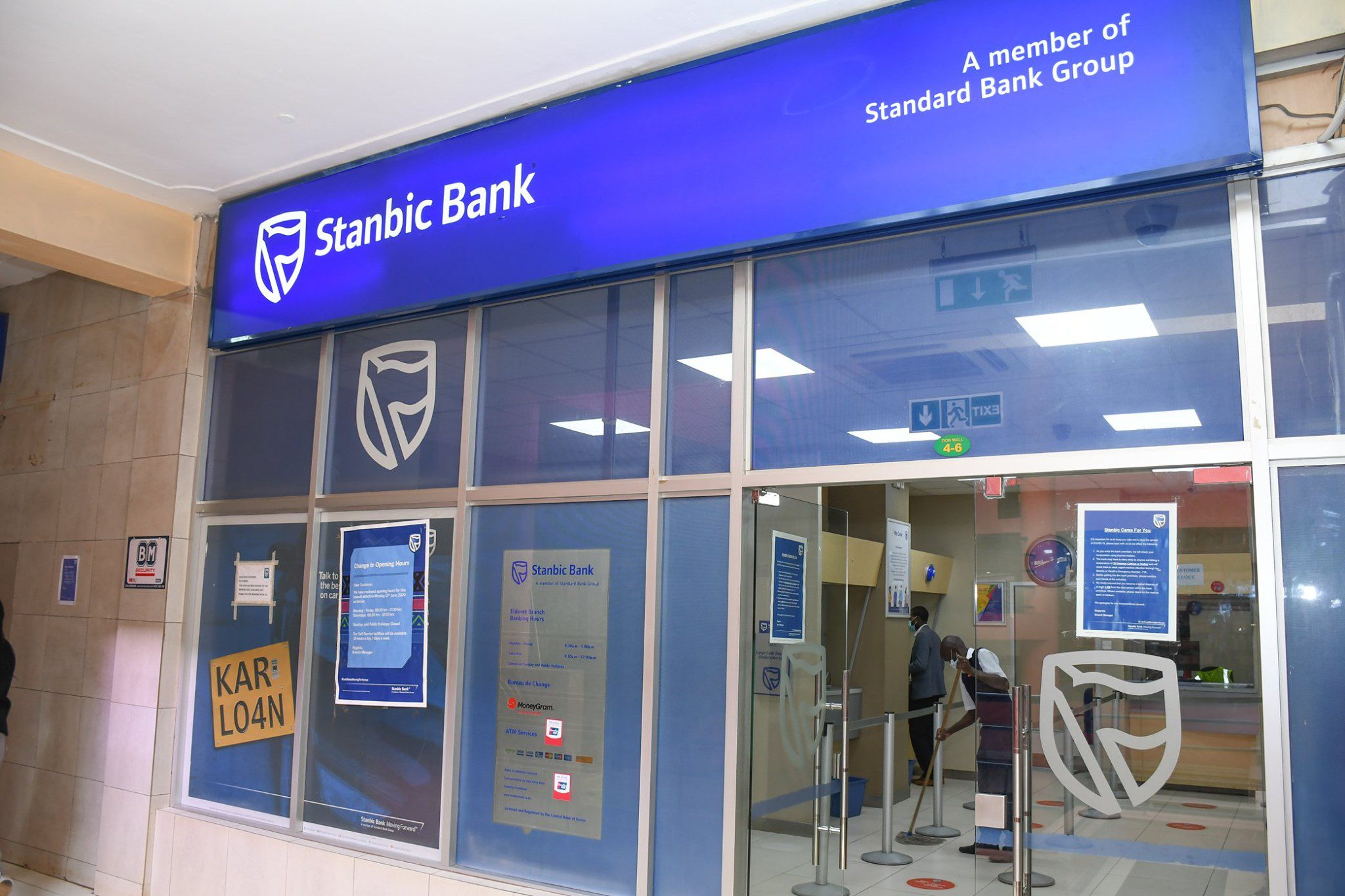 Stanbic Bank is a leading financial institution operating in Kenya with a widespread network of branches across the country.
Currently, Stanbic Bank operates a network of over 25 branches in Kenya, with its headquarters located in Nairobi. These branches are strategically located in different parts of the country, making it convenient for customers to access the bank's services.
List of Stanbic Bank Kenya Branches in Kenya.
1. Chiromo Branch Stanbic Bank Centre
Address: Chiromo Rd, Nairobi
Tel: 20 326 8104  Tel: +254 711 068 071.
Working Hours Mon – Fri: 08:30 – 17:00   Sat: 08:30 – 12:00
Sun and Public Holidays: Closed
Self Service Digital Centre & ATM available 24hrs & 7 days a week
2. Galleria Branch 1st Floor, 
Address: Galleria Mall Nairobi
Tel:  20 326 8065  Tel: 20 326 8000
Working Hours Mon – Fri: 09:00 – 17:00   Sat: 09:00 – 13:00
Sun and Public Holidays: Closed
Self Service Digital Centre & ATM available 24hrs & 7 days a week
3. Kenyatta Avenue Branch
Address: Stanbic Bank Building
Kenyatta Avenue Nairobi
Tel:  0711 068 081 Tel: 0711 068 639
Working Hours Mon – Fri: 08:30 – 17:00   Sat: 09:00 – 12:00
Sun and Public Holidays: Closed
Self Service Digital Centre & ATM available 24hrs & 7 days a week
4. Industrial Area Branch 
Address: Kenply House
Dar es Salam Road, Nairobi
Tel:  20 398 4100 Tel: 20 326 8000
Working Hours Mon – Fri: 08:30 – 17:00   Sat: 09:00 – 12:00
Sun and Public Holidays: Closed
Self Service Digital Centre & ATM available 24hrs & 7 days a week
5. International House Branch
Address: International House
City Hall Way, Nairobi
Tel:  20 326 8000 Tel:  0711 068 097
Working Hours Mon – Fri: 08:30 – 17:00   Sat: 09:00 – 12:00
Sun and Public Holidays: Closed
Self Service Digital Centre & ATM available 24hrs & 7 days a week
6. Upperhill Medical Centre Branch

Address: Upperhill Medical Centre
, Ralph Bunche Road, Nairobi
Tel:  20 363 8745 Tel: 0711 068 378
Working Hours Mon – Fri: 08:30 – 17:00   Sat: 09:00 – 12:00
Sun and Public Holidays: Closed
7. Waiyaki Way Branch

Address: Lion Place Building
, Westlands, Nairobi
Tel:  20 425 8000 Tel: 20 444 5040
Working Hours Mon – Fri: 08:30 – 17:00   Sat: 09:00 – 12:00
Sun and Public Holidays: Closed
8. Buru Buru Branch

Address: KNLS Building along Mumias South Road, Buru Buru Shopping Centre
Tel: 20 326 8050 Tel: 20 326 8000
Working Hours Mon – Fri: 08:30 – 17:00   Sat: 09:00 – 12:00
Sun and Public Holidays: Closed
9. Warwick Branch

Address: Warwick Centre, Ground Floor
UNEP Avenue
Tel: 20 326 8076 Tel: 20 3268071
Working Hours Mon – Fri: 08:30 – 17:00   Sat: 09:00 – 12:00
Sun and Public Holidays: Closed
10. Garden City Branch
Address: Garden City Mall, Ground Floor
Tel: 0711 068 417 Tel:  0711 068 261
Working Hours Mon – Fri: 08:30 – 17:00   Sat: 09:00 – 13:00
Sun and Public Holidays: Closed
Self Service Digital Centre & ATM available 24hrs & 7 days a week
11. Westgate Branch
Address: 2nd Floor, Westgate Mall
Mwanzi Road
Tel:  20 326 8000 Tel:  20 326 8000
Working Hours Mon – Fri: 08:30 – 17:00   Sat: 09:00 – 13:00
Sun and Public Holidays: Closed
Self Service Digital Centre & ATM available 24hrs & 7 days a week
12. Gikomba Branch
Address: Mumbai Shopping Complex
Digo Road
Tel:  20 363 8066-15 Tel: 20 326 8000
Working Hours Mon – Fri: 08:00 – 16:00   Sat: 08:00 – 12:00
Sun and Public Holidays: Closed
13. The Hub Branch
Address: 1st Floor, the hub shopping mall
Along Dagoretti Road, Karen
Tel:  20 326 8000 Tel: 0711 068 930
Working Hours Mon – Fri: 09:00 – 17:00   Sat: 09:00 – 13:00
Sun and Public Holidays: Closed
Self Service Digital Centre available 24hrs & 7 days a week
14. Two Rivers Branch
Address: 2nd Floor, Two Rivers Mall
Northern bypass
Tel:  20 3268194 Tel:
Working Hours Mon – Fri: 09:00 – 17:00   Sat: 09:00 – 13:00
Sun and Public Holidays: Closed
Self Service Digital Centre available 24hrs & 7 days a week
15. Changamwe Branch
Address: Airport Centre Mall, Ground Floor
Magongo road, Mombasa
Tel:  : 0711 068 000 Tel: 0711 068 999
Working Hours Mon – Fri: 08:30 – 17:00   Sat: 09:00 – 12:00
Sun and Public Holidays: Closed
Self Service Digital Centre available 24hrs & 7 days a week
16. Malindi Branch
Address: Ground Floor
Oasis Mall, Malindi
Tel:  : 41 212 3000 Tel: 41 212 3287
Working Hours Mon – Fri: 08:30 – 17:00   Sat: 08:30 – 12:00
Sun and Public Holidays: Closed
Self Service Digital Centre available 24hrs & 7 days a week
17. Digo Road Branch
Address: Stanbic Bank Building, Mombasa
Tel:  : 41 212 3000 Tel: 41 212 3200
Working Hours Mon – Fri: 08:30 – 17:00   Sat: 08:30 – 12:00
Sun and Public Holidays: Closed
18. Stanbic Nyali Branch
Address: Nyali Centre Mall , New Malindi Road
Tel:  : 41 212 3000 Tel: 41 212 3200
Working Hours Mon – Fri: 08:30 – 17:00   Sat: 08:30 – 12:00
Sun and Public Holidays: Closed
Self Service Digital Centre available 24hrs & 7 days a week
19. Stanbic Naivasha Branch
Address: CfC Heritage House
Moi Road, Naivasha 
Tel:  : 20 326 8758 Tel: 20 326 8000
Working Hours Mon – Fri: 08:30 – 17:00   Sat: 08:30 – 12:00
Sun and Public Holidays: Closed
20. Stanbic Nakuru Branch
Address: Nakuru Coffee House on Moi / Kenyatta Junction
Tel:  : 0711 068 801 Tel: 0711 068 809
Working Hours Mon – Fri: 08:30 – 17:00   Sat: 08:30 – 12:00
Sun and Public Holidays: Closed
21. Stanbic Nanyuki Branch
Address: Ground Floor, New Nanyuki Mall
Tel:  : 0711 068 731 Tel: 0711 068 741
Working Hours Mon – Fri: 08:30 – 17:00   Sat: 08:30 – 12:00
Sun and Public Holidays: Closed
Self Service Digital Centre available 24hrs & 7 days a week
22. Stanbic Thika Branch
Address: Maisha Heights Building, 
Ground Floor, Kenyatta Highway, Thika
Tel:  :  0711 068 392 Tel:  0711 068 395
Working Hours Mon – Fri: 08:30 – 17:00   Sat: 08:30 – 12:00
Sun and Public Holidays: Closed
Self Service Digital Centre available 24hrs & 7 days a week
23. Stanbic Meru Branch
Address: Hart Towers
Junction Njuri Ncheke and Kenyatta Highway
Tel:  :   20 326 8000 Tel: 0711 068 270
Working Hours Mon – Fri: 08:30 – 17:00   Sat: 08:30 – 12:00
Sun and Public Holidays: Closed
24. Stanbic Eldoret Branch

Address: Zion Mall
Uganda Road, Eldoret 
Tel:  :  0732 113 000 Tel:  0711 06 8000
Working Hours Mon – Fri: 08:30 – 17:00   Sat: 08:30 – 12:00
Sun and Public Holidays: Closed
25. Stanbic Kisumu Branch

Address: Ground Floor, One Kenton Square Building
Oginga Odinga Road, Kisumu
Tel:  :   57 2020554 Tel: 20 326 8000
Working Hours Mon – Fri: 08:30 – 17:00   Sat: 08:30 – 12:00

Self Service Digital Centre available 24hrs & 7 days a week
26. Stanbic Kericho Branch

Address: Ground Floor, Chai Plaza
Kenyatta and Temple Road, Kericho
Tel:  :  20 326 8000 Tel:
Working Hours Mon – Fri: 08:30 – 17:00   Sat: 08:30 – 12:00
Sun and Public Holidays: Closed
Self Service Digital Centre available 24hrs & 7 days a week
27. Stanbic Imaara Branch

Address: Imaara Mall, Imara Daima,
Mombasa Road
Tel:  :  0711068888 Tel: 0800720044
Working Hours Mon – Fri: 09:00 – 17:00   Sat: 09:00 – 13:00
Sun and Public Holidays: Closed
Self Service Digital Centre available 24hrs & 7 days a week
28. Stanbic Expressway Branch

Address: Nairobi Expressway Plaza
Mombasa Road
Tel:  :  020 3638142 Tel: 020 3638231
Working Hours Mon – Fri: 08:30 – 17:00   Sat: 08:30 – 12:00
Sun and Public Holidays: Closed
Self Service Digital Centre available 24hrs & 7 days a week