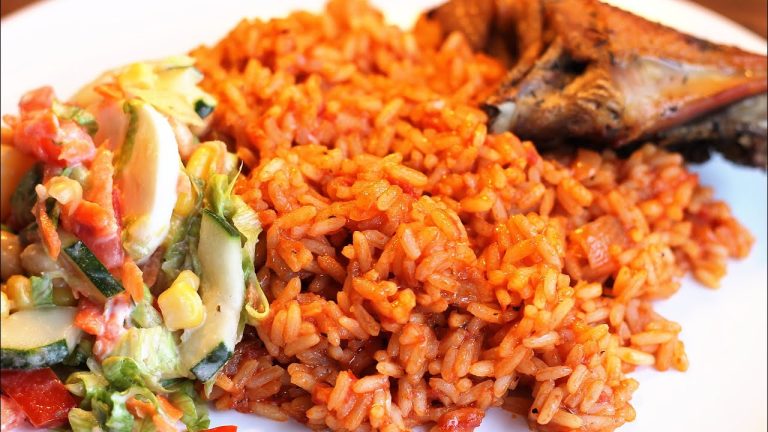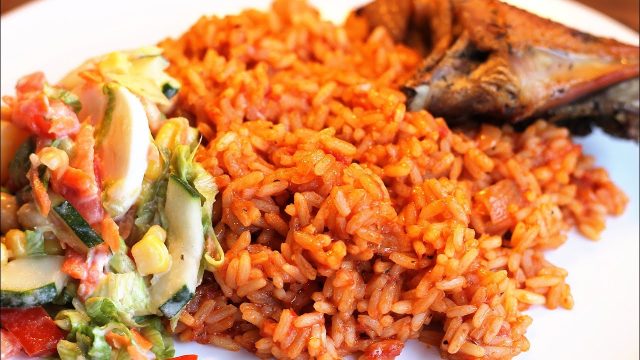 Jollof Rice is a popular West African dish that is both flavorful and filling. Here is a recipe for making Jollof Rice:
Ingredients:
2 cups of long grain rice
1 can of tomato paste (6 oz)
2 large onions, chopped
3 garlic cloves, minced
1 scotch bonnet pepper, chopped (optional)
1 red bell pepper, chopped
1 green bell pepper, chopped
1 teaspoon of dried thyme
1 teaspoon of curry powder
1 teaspoon of dried basil
2 tablespoons of vegetable oil
3 cups of water
Salt and pepper to taste
Instructions on how to cook Jollof Rice
Rinse the rice with cold water and set aside.
In a large pot, heat the vegetable oil over medium heat. Add the onions and garlic and sauté until they are soft and translucent.
Add the tomato paste, chopped peppers, thyme, curry powder, and basil. Stir well and cook for 5-7 minutes.
Add the rice to the pot and stir until the rice is well coated with the tomato mixture.
Add the water and stir again. Cover the pot and let it simmer on low heat for about 25-30 minutes or until the rice is cooked through and the liquid has been absorbed.
Once the rice is cooked, remove it from the heat and fluff it with a fork.
Season with salt and pepper to taste.
Serve the Jollof Rice with your choice of protein or vegetables.
This Jollof Rice recipe is easy to make and is sure to be a hit with your family and friends. Enjoy!