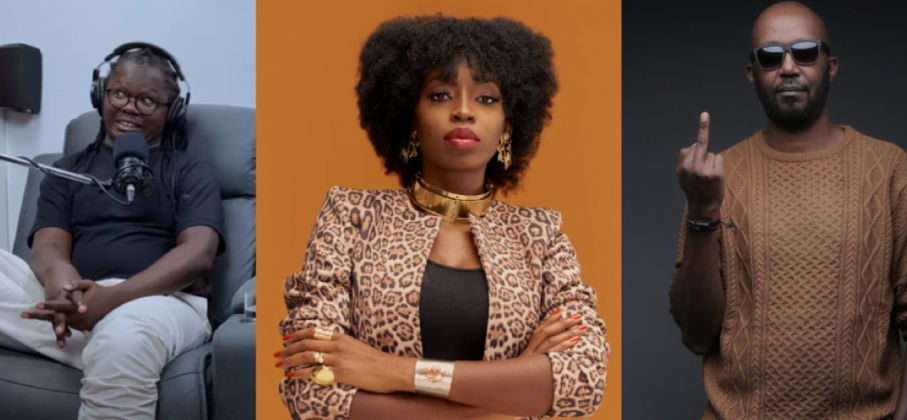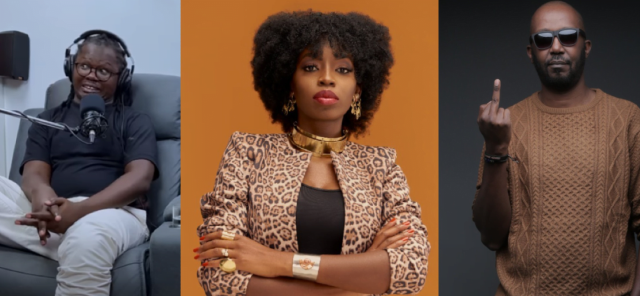 On its own, it wasn't worth all the attention it got until US-based Kenyan content creator Andrew Kibe posted his sentiments after Anyiko Owoko called out what she felt was sexist on one of the Iko Nini podcasts.
In case you missed it, Mwafreeka, a legendary Kenyan musician and a media personality who runs the Iko Nini Podcast and Iko Nini YouTube channel interviewed Kagwe Mungai in a video that was posted as Episode 203 on August 11, 2023, in which they talked about the diverse and unique music scene, its challenges as well as other interesting topics like family.
Six minutes into the video, Mwafrika had already gotten Kagwe to speak about how he set his sights across the pond when he was starting as a musician, and he stated that his first album, Spectrum, was produced by Taurus Musik. This Nigeria record label had also signed singer Dela Maranga, famous for her song Mafeelings.
The man behind Ghostika said this while revealing the details of his second studio album, Rada, produced independently after going separate ways with the label. When asked how it went with Dela, Kagwe said that she also left Taurus Musik when her contract ended, adding that she has been inactive for a while, attributable to the many responsibilities that come with having a new family after getting married.
The conversion grew, and the two gentlemen, from their different experiences in their musical journeys, decided to talk about the challenges facing new and rising artists. They agreed that it is true that there are challenges, but men were more likely to swim through than women, as evidenced by the successes of the males in the industry.
However, this was not the formula and the results in every entertainment sector. They observed that there was some sort of a balance because women were very successful on the paid pornographic subscriber platform OnlyFans compared to men – this is where Mwafreeka stepped on Anyiko's toes.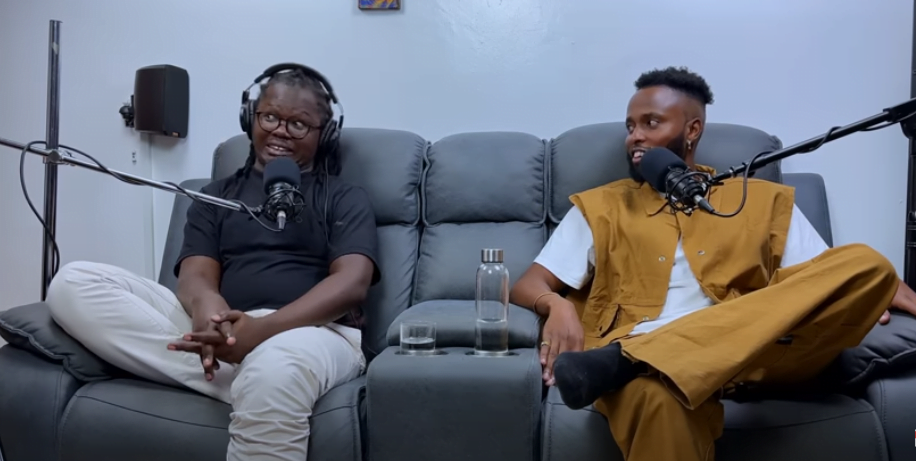 Taking to Twitter, Anyiko, a well-known publicist in corporate circles, complained that that was a sexist slur that aims to victimize the targets, who may be seen as passive erotic objects.
"Didn't expect @Mwafreeka to spew such sexist comments on that pod. "Women are only good at the only-fans industry"? And y'all laughed about that as if that's a very funny joke?" She tweeted.
Didn't expect @Mwafreeka to spew such sexist comments on that pod 🚮

"Women are only good at the only-fans industry" ? And y'all laughed about that as if that's a very funny joke?

Question: Iko Nini?
Answer: #TRASH

— ANYIKO OWOKO (@anyikowoko) September 5, 2023
In an attempt to diffuse the situation, Mwafreeka was quick to give a soft reply similar to his facial appearance if you apply the social psychological face perception: "Please share the clip. I want to see when I said, "Women are ONLY good at OnlyFans." If I said that in those exact words and sentiments, then Iko Nini is trash."
But the same could not continue when 'Mr Lambistic' Andrew Kibe was around. Out of the mist, Kibe appeared and decided to unbury the hatchet, reminding everyone that he always had a bone to pick with Anyiko.
"I remember the move you pulled while I was at NRG radio when you brought Redsan for an interview. You're probably the trashiest human in the entertainment industry in Kenya right now. Go cancel your nyanye puny biatch!" Kibe ranted, proving to be angrier than when the incident happened.
Narrating exactly how his row with Anyiko started, Kibe said in his Boyz Night In Wednesdays show that at one time in 2019, when he was working on NRG, he had a chance to interview dancehall star Redsan in a meaningful exchange that took almost an hour. While at it, social media guys at the radio station were taking photos of them for posting on its online spaces.
He acknowledged that he hailed Redsan a lot because he grew up listening to him, aside from the interview being just a great milestone in his radio career. Sadly, he didn't know that all the pomp and passion was short-lived.
The conversation was over when its dedicated time lapsed, and their photos were uploaded on the company's socials, but Anyiko of Anyiko Public Relations (Anyiko PR) went and asked one of the seniors named Sebastian to delete the photo.
When Kibe tried to inquire why the photo of him smiling with the artist had to be pulled down, the reason was simple; "Redsan does not want his face and your face on the same photo."
He pointed out that the corporate sector may not be as friendly as it may seem.