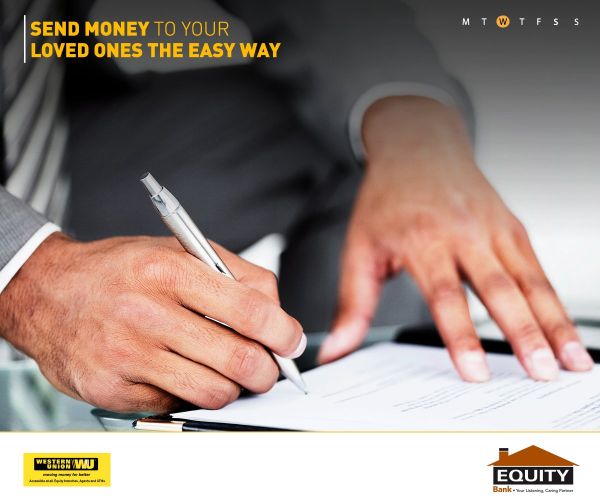 Western Union services are now available on Equity Bank App.
Equity Bank has announced the integration of Western Union services into its Equity Mobile App and Equity Online banking platforms, marking a significant enhancement to its digital banking capabilities. This collaboration enables customers to send and receive international money transfers directly from their devices via Western Union.
The service offers an unprecedented convenience to Equity Bank (Kenya) Ltd customers, allowing them to send funds via the Equity Mobile App or Equity Online to recipients' bank accounts worldwide. This includes other Equity Bank accounts across the region and cash pick-up transactions at any Western Union Agent, spanning over 200 countries and territories.
Equity customers can also readily receive money from virtually anywhere in the world by entering the tracking number (MTCN) and other necessary details on the app. The transferred funds can be deposited into the receiver's preferred Equity bank account.
Equity Bank Kenya Managing Director, Gerald Warui, expressed his enthusiasm about the partnership, stating, "Our commitment is to leverage partnerships and technology to enhance customer experiences. This collaboration with Western Union aligns with our objective of making banking an integral part of everyday life, offering customers convenience, choice, and control over their transactions."
The Bank's robust digital strategy emphasizes improving digital banking, with a focus on mobile technologies, the internet, and artificial intelligence to enhance security and the online channel experience.
Mohamed Touhami El Ouazzani, Regional Vice President of Africa at Western Union, shared the excitement, stating, "At Western Union, we bridge gaps by facilitating global money transfers through one of the world's most extensive, adaptable, and versatile financial networks. We're thrilled to broaden our services with Equity, enabling customers to transfer money conveniently, reliably, and swiftly."
By incorporating Western Union's international money transfer services into the Equity Mobile App and Equity Online, Equity broadens its digital services, allowing millions of customers to conduct cross-border payments efficiently, conveniently, and reliably, around the clock.
To access Western Union services on their devices, Equity customers will need to log into the single sign-on online banking platform accessible via the Equity Mobile App or Equity Online. These platforms provide a seamless, secure user experience with enhanced security, including a second layer of protection through a One Time Password (OTP).