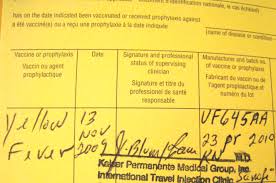 How to Find a Yellow Fever Vaccination Clinic in Kenya?
Keeping yourself safe from the risk of yellow fever should be a priority when traveling to Kenya. Find out where to get the necessary yellow fever vaccination, any special stipulations you may need to take into account, and tips for staying healthy while abroad here.
The Kenyan government requires all travelers to obtain this vaccination and provide proof of immunization in the form of an International Certificate of Vaccination or Prophylaxis (ICVP) commonly known as the 'yellow card'. The ICVP is issued by qualified health workers at approved vaccination centers and must be presented whenever required by relevant authorities like immigration officials during a person's stay in Kenya.
The costs range from between Kshs 1500 to Kshs 2,500. However, the rates differ in private hospitals. The vaccine certificate typically lasts ten days but offers lifelong protection against yellow fever. Several hospitals in Nairobi offer this vaccination. They are as follows.
It is located along Argwings Kodhek Road in Hurlingham. You can reach them via 0709 667 000 and 0733 618 353 or email them at info@nwch.co.ke.
The Aga Khan Hospital
It is located on 3rd Parklands Avenue in Nairobi. Their contact numbers are +254 20 366 2000 and 0711 092 000. You can also email them at akuh.nairobi@aku.edu.
MP Shah Hospital
It is located on Shivachi Road in Parklands. Contact them at +254 20 4291 100 or email them at info@mpshahhosp.org.
Karen Hospital
Karen Hospital has all the recommended vaccinations and immunizations, including yellow fever. All these are done at the hospital's immunization and travel vaccination section. The hospital is locate on long Lang'ata road in Karen. Reach them on 0726 222 001, 0736 200 001, or 020 661 3000.
The Department of Health Services, Nairobi City County
The hospital is located in City Hall Annex, 3rd floor, room 305. Their contact number is +254 020 2224281.
Armref Travel Clinic
You can find this clinic at Wilson Airport in Nairobi. You can reach them on +254 20 699 4000, +254 20 600 6340 or email them at info.kenya@amref.org.
Centre For Tropical And Travel Medicine
This hospital is located off Ngong Road in Adams Arcade, and their contact number is 0721 163 974 and 0734 211 888. Email them at info@cttm-kenya.com.
Please note that the yellow fever vaccination cannot be administered to pregnant or lactating women. Also, HIV-infected persons can only be vaccinated against it if their CD4 is less than 200 and they are stable on treatment.